Our superior quality American apples will maintain integrity when baked in desserts or even for an extended period on hot bars/buffets.
Sliced, diced, or chipped, in water or in syrup, with peel or without, we have your menu application covered.
Knouse Product Code:
FFSLR1100MUS01
GTIN Case#
10037323130159
Ingredients
Chipped apples and water.
Nutrition Facts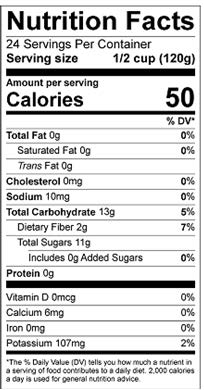 100% American grown apples.
Since the beginning, we've been dedicated to bringing you the highest-quality foods made with honesty and integrity. We make quality a priority, from harvest to storage.
Real Fruit, Real Ingredients.
Our clean-label products are picked at the peak of freshness and are always made with the simple ingredients your guests understand and trust.